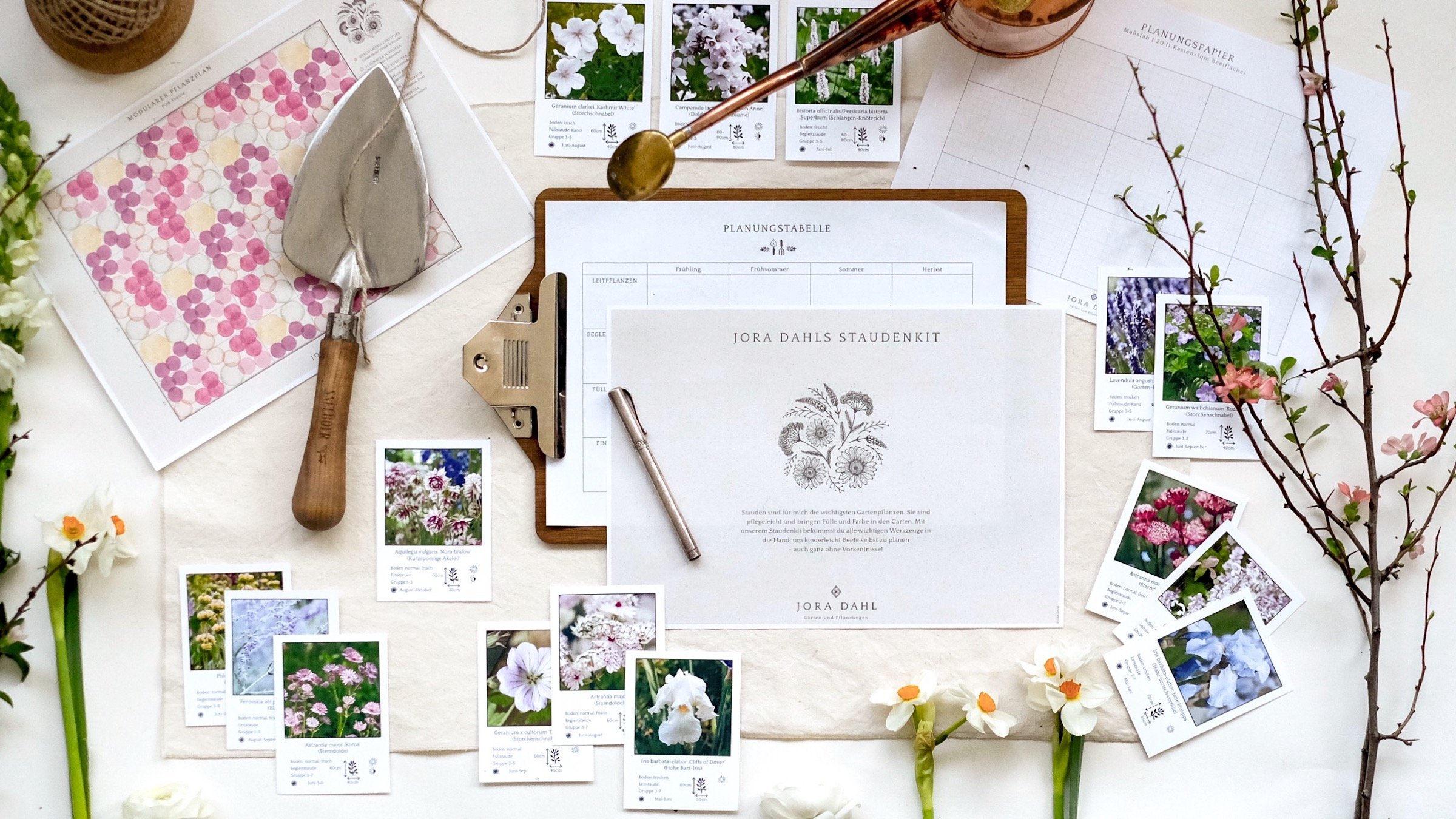 Planning Beautiful Beds with the Perennial Kit
I love to design gardens, but I always realise: the most difficult thing is and remains the flowerbed. It should be permanently flowering – naturally from spring to autumn – wild, romantic, lush and of course useful – for bees, butterflies and insects.
We know many models from gardening magazines and books, but when we look into our own gardens, they often don't have much to do with these images. Instead, the plants are too big, too small, not harmonious in colour, not balanced. Sometimes they bloom in the upper left-hand corner, then in the lower right-hand corner and usually not at all.
My first bed was a magnificent perennial bed with early-flowering varieties – a dream in May and June, a tragedy in July. It looked like a sad collection of weeds that had grown too high.
How do you actually plan a functioning bed? The good news is: it's not that difficult if you know the tricks and aids of professional garden planners. And even easier if you have them on hand.
And that's exactly what I want to offer you with our perennial kit: simple tools with which planning beds becomes a favourite pastime. Without much previous knowledge, without studying books, I give you the means to choose the right varieties and to check whether the bed will work. You will get a feeling for the right amount of perennials and avoid expensive wrong purchases.
A centrepiece of the perennial kit are our beautifully designed perennial cards. I have put together the most beautiful varieties for you. All you have to do is print out the 88 cards (preferably on nice photo cardboard) and choose your favourite combination. With the planning table you can see whether your selection really makes sense, i.e. whether your bed will flower for a long time and is in balance. Planning paper and a shopping list make it easier to determine quantities. And if you don't have time to plan at all, as a bonus you get two ready-made planting plans that can be scaled to almost any bed size. This makes planting beds as easy as painting by numbers!
In addition, there are detailed instructions that will teach you the golden rules of bed planning and show you concrete examples of bed design.
Now is exactly the right time to get to work! Spring is just around the corner and it won't be long before the garden world awakens from hibernation. I'm sure it will be a wonderful gardening year and our perennial kit will help you create the most beautiful beds you've ever had!
Buy and download the perennial kit here